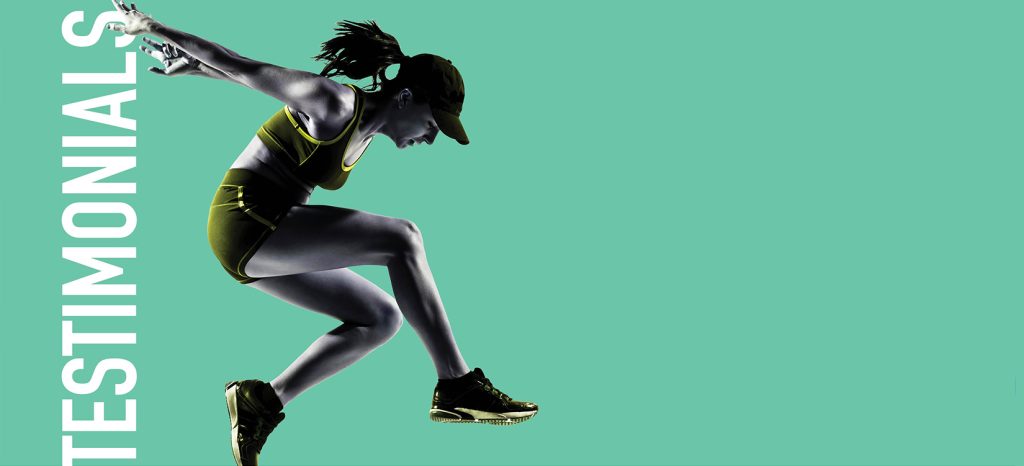 Every day we help people identify and correct the source of their pain.

  A friend recommended Eric Ferguson/MAT and I was soon re-introduced to my own body with this process. Since working with Eric, I've gained back my strength and agility and I am on the road again playing, writing and signing totally pain free – I can even carry my own guitars, thank you!
–Ruthie Foster, Grammy-nominated singer and songwriter


The fix: Turn on the left pectoral
Seth came to The Continuum Method discouraged with traditional therapy and diagnostic methods. He was experiencing ongoing neck pain, had received MRIs and other scans, and had undertaken various traditional therapy methods, including injections, without any sustained success. An MAT evaluation discovered that his left pectoral was not functioning which put undue stress on his neck. Treatment of the pectoral muscles and strength training have almost completely eliminated Seth's neck pain and restored strength throughout his body.

  TCM is the missing link for anyone serious about assessing the real root of their musculoskeletal problems and resulting pain. No foam rollers, massages or empty promises. Eric and his team will explain very clearly how they diagnose, specifically your "off" muscles, and turn them back "on". With a highly customized training room to isolate and strengthen each problematic muscle pattern, TCM has provided a complete rehabilitation environment for me to transform from a life of constant discomfort and weakness to imagining all my physical and athletic potential once again. I've recommended Eric and TCM to every family member and friend in my life.  


The fix: Turn on left ankle and hip muscles
Sherry was experiencing chronic daily migraines that left her bedridden in a darkened room. Her headaches were accompanied by light sensitivity and nausea. Her initial MAT evaluation determined that her left hip and foot were unstable due to losing her small toe in a bike accident when she was a preteen. Treatment has led to physical stability and the end of her migraines.

The fix: Stabilize and align hips
Annika came to The Continuum Method when her shoulder suddenly froze. In her initial session she revealed that she had been in a car wreck 20 years before which had resulted in chronic neck pain she assumed would not go away. Her MAT evaluation disclosed a rotated torso which meant her hips and shoulders were out of alignment. Her treatment not only fixed her shoulder, it completely alleviated her neck pain.

The fix: Correct pronated and suppinated feet
As a trombone player, Martin spent hours performing, toting his instrument, and flying or driving to and from concert performances. When he came to The Continuum Method, he was experiencing lower back pain which made it impossible to stand while performing and travel. His MAT evaluation disclosed issues with his feet — one arch was flat and the other arch too high. After treatment, he can now carry his own instrument and take 15 hour flights with no issues.

The fix: Turn on lumbar rotators
Roger is a professional sports agent and had been told by the San Antonio Spurs medical staff that he needed a hip replacement. At the age of 42, he hated the idea of severe surgery and found an alternative through The Continuum Method. Within a few sessions, Roger was pain free and incredibly thankful he didn't go through with surgery. 10 years later he still gets "tune-ups" every few months and remains pain free, grateful, and a The Continuum Method advocate.

The fix: Turn on left knee and hip muscles
Adam originally came to The Continuum Method due to knee pain which arose after a minor motorcycle accident. Two years after treatment, Adam suffered a major motorcycle accident which tore his ACL. After undergoing surgery, Adam rehabilitated with the TCM team exclusively. Recovery time with traditional therapies is usually around 12 months. With The Continuum Method, Adam recovered in just 6 months.

The fix: Turn on left hip extensors
PJ is an NBA player who experienced an inversion sprain in his left ankle. After months of traditional therapy, including electric stem treatments, stretching, and a restrictive walking boot, his ankle wasn't healing. PJ came to The Continuum Method, and after only two treatments, he was pain free and jogging barefoot.

The fix: Turn on all neck and thoracic muscles
Spencer came to The Continuum Method with Crohn's disease. He was diagnosed at 17 and experienced severe GI distress and vomiting which led to extreme weight loss. Spencer was on strong IV meds which did little to alleviate his symptoms. Because of his illness, he couldn't go to college and had no job or social life. During his initial MAT evaluation, TCM discovered an extreme neck imbalance due to a concussion he had experienced playing football at 16. After a single neck treatment, Spencer was surprised when his GI distress finally decreased. After a solid 6 months of treatment, Spenser had recovered. Within a year he had his life back—he is now married with a child, is going to college, and playing on a basketball team.

  The Continuum Method was a major part of the journey to become the man I am today.